'about growth...'
Elizabeth Swinburne's most recent work explores ideas of progression, growth and absence. It is important to her that the viewer can have a sense of recognition rather than one of exclusion. With their first look they see 'seeds' or 'eggs' and from that starting point can begin a journey in their own imaginations. They are familiar - reminding one of caterpillars eggs discovered on the underside of a leaf or of the empty cocoon of a butterfly. Yet the works raise as many questions as they answer. What has emerged from these waxy shells of fragile glass? Was it beautiful or ugly, benign or harmful?

"Of course the 'thing' that has escaped or hatched from the work is my breath".


Kiln casting mould for 'Hatched' - before firing
As in earlier works it is the surface or 'skin' that is important to Elizabeth. Previously her interest has been in heightening the awareness of the physical and metaphoric moment when we meet and touch. Today it is the fragility, vulnerability and a sense of age that fascinates.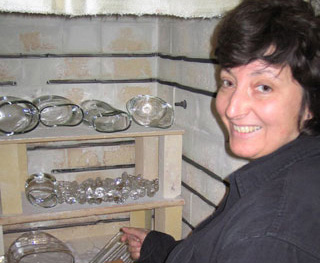 Liz in front of the kiln
The objects are a combination of blown and kiln casting techniques. Elements are blown at the furnace, then assembled in a kiln and fired to a 'casting' temperature of around 900 degrees centigrade. This combination of glass making processes gives the final objects their fluidity and 'glassiness' - usually only associated with molten glass.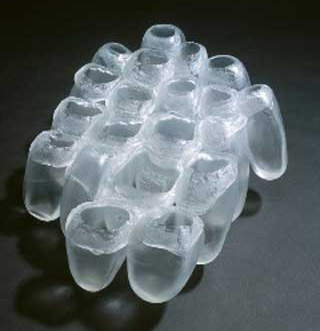 'Hatched', 2005, free blown and kilncast
H 15 x W 30 x D 42 cm