'Recent curating'
2008
'European Glass Context 2008'
Bornholm, Denmark
2005 - 2006
'20 Years on'
Glasmuseet Ebeltoft, Denmark
2003
'All this and so much more' Cultural Centrum Corrosia, Almere
2003
'Inspirational Awakening' Contemporary Irish Glass Society designed and installed first exhibition in Waterford
2002
'33 Years - glass at the Gerrit Rietveld Academie'
Curated retrospective exhibition to coincide with GAS conference, Amsterdam


The artists chosen by Swinburne were:
In the category 'emerging artists':
Geoffrey Mann and Richard Wheater
In the category 'established artists':
Angela Jarman and Rachael Woodman
In the category 'design':
Emma Woffenden and Simon Moore



Richard Wheaters' performance: 'burning fat'


To see more of their work you can visit their web sites:
www.angelajarman.com
www.mrmann.co.uk
www.richardwheater.com
www.simonmoore.uk.com
To view Woodmans work - www.adriansasoon.com
For Woffendens - www.artecnicainc.com

'20 Years on'
Glasmuseet Ebeltoft, Denmark
28th June 2006 - 28th January 2007
A view of inside the new wing, in the foreground are works from Bertil Vallien, on the wall;'Honey child' from Sibylle Peretti. and in the background Silvia Levensons 'Refuge', and the works of Brian Hirst and Stig Person
Pictured on the right is a close up of "Ghosts of War' by Joel Philip Myers and in the background 'Wall of Tears' by Sibylle Peretti
A full colour catalogue was produced to accompany the exhibition - featuring work from all of the artsits and essays by Swinbure, Louise Mazanti from Denmarks Design school and author Leif Hjernoe - available from the museum
For more information visit the museum website
Inspirational Awakening'
Irish Contemporary Glass 2003
Greyfriars Art Centre – Waterford
19th September - 29th October 2003
Overview of 'Inspirational Awaking', Waterford, Ireland
In the foreground work of Roisín De Buitléar.
'Glass: all this and so much more'
Cultureel Centrum Corrosia - Almere Haven
3rd May - 30th May 2003
Invited by the Corrosia Cuturall Centre of Almere to curate, design, and install an exhibition of contemporary Dutch glass, Elizabeth; working with fellow artists: Gareth Noel Williams and Laura Heyworth; put together an inspirational and informative programme of events to accompany the exhibition of glass works. Included artists were: Elizabeth Swinburne, Helene Briels, Hanneke Fokkelman, Vincent van Ginneke, Mieke Groot,Lisa Gherardi, Frank van den Ham, Effie Halkidis, Carl van Hees, Laura Heyworth, Mari Mészáros, Richard Meitner, Bibi Smit, Yvonne Trossel, Gareth Noel Williams.
33 Years, Glass at the Gerrit Rietveld Academie'
Arti et Amicitiae - Amsterdam
30th May - 16th June 2002
After extensive research Elizabeth curated and coordinated this extensive exhibition which charted the development of the glass department of the Rietveld Academy. The show was organised as part of Glaszomer 2002, a festival of glass events in the Netherlands , which coincided and integrated with GAS, the American glass societies annual conference, held for the first time in Europe. Included artist were: Elizabeth Swinburne, Bert van Loo, Richard Meitner, Durk Valkema, Mieke Groot, Sien van Meurs, Bert Frijns, Daniel Verberne, Anna Carlgren, Vincent van Ginneke, Hanneke Fokkelman, Richard Price, Lisa Gherardi, Joost Bicker Caarten, Simsa Cho, Jelena Popadic, Esther Jiskoot, Jassu Kaneko, Jens Pfeifer, Philippa Edwards, Laura Heyworth, Caroline Prisse, Effie Halkidas, Gareth Noel Williams, Petra Brenner.









European Glass Context 2008
www.glass08.com

Earlier this year Swinburne was invited to be the selector of the 6 UK artists who would represent Britain at this biennial symposium for European Contemporary glass and ceramics. The symposium takes place on the Island of Bornholm, Denmark from 12th September until 19th October 2008. For the first time this event presents contemporary European glass. Through exhibitions, a conference, workshops, master classes and a technical display an opportunity is created were it is possible to discuss and experience the state of European glass today. All of the 27 members of the European Union are participating, as well as Iceland, Norway and Switzerland.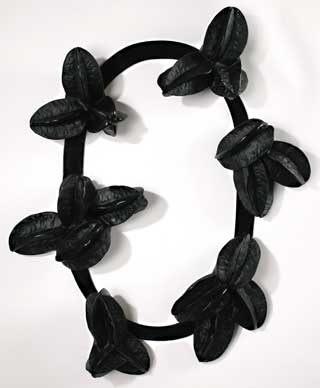 Angela Jarman: 'Carambola ll'
An international panel of judges chose Angela Jarman for the 'outstanding artist' award in the 'established artist' category.
Geoffrey Mann was also selected for honour - receiving the World Crafts Council Award, a prize that looks at both established and emerging artist categories and represents what one could call 'best in show'! Well done to them both.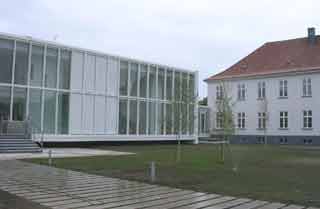 The new wing viewed from inside the garden (2006)
Elizabeth curated the inaugral exhibition for the new wing of Glasmuseet Ebeltoft which opened on 28th June 2006. The exhibition - '20 Years on' celebrated, not only the 20 year anniversary of the museum but also its basic philosophy - that of being a contemporary international glass museum run by and for artists.
The 20 artists, from 10 countries were:
Denmark: Finn Lyngaard and Stig Persson
Japan: Makoto Ito and Masayo Odahashi
UK: Alison Kinnaird and Emma Woffendon
The Netherlands: Mieke Groot and Laura Heyworth
Sweden: Bertil Vallien and Anna Norberg
USA: Joel Philip Myers and Jocelyne Prince
Australia: Brian Hirst and Kirstie Rea
Germany: Klaus Moje and Sibylle Perretti
Italy: Lino Tagliapietra and Sylvia Levenson
and from the Czech Republic: Jaroslava Bryctova and Alena Matejkova.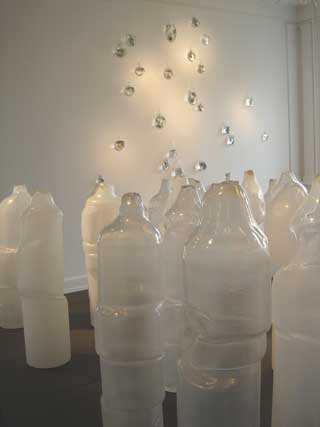 Elizabeth Swinburne and Kim Mawhinny, curator of Applied Arts at the Ulster Museum, Belfast, were invited by the Glass Society of Ireland Contemporary Makers to select for this, their first exhibition of members work. Elizabeth also acted as exhibition designer and was responsible for the first installation of this travelling exhibition that opened in Waterford in September 2003.

Further information can be found at the society website: www.glassartireland.com.

Overview of 'Inspirational Awaking', the work of Louise Rice. Other artists in the exhibition were: Sean Campbell, Paul Devlin, Roisín De Buitléar, Yael Luz, Mary Mackey, Caroline Madden, Douglas Mooney, Michell O'Donnell, Marguerite Pule, Victoria Rothchild, Killian Schurmann, Paula Stokes, Elke Weston, Peter Young.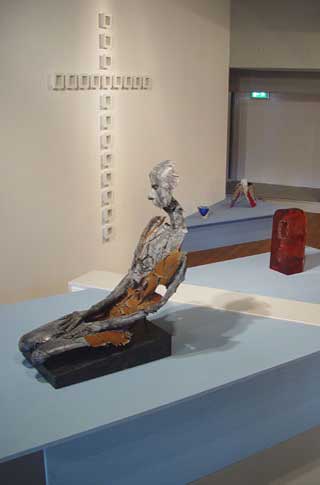 Overview of 'Glass: All this and more'
Back to Top of page